About Flodin Design
A Scandinavian design company who designs and manufactures high quality interior design and decoration articles.
The philosophy behind the articles we design and make are:
Add joyful colors to your everyday life.
What you give, you will get in return. - Why not give love?
Ecological thinking runs in our genes.
Flodin Design creates original and colorful products that bring people joy for a long time and cause minimal environmental impact. Everything is designed and made in Sweden!
The company was founded in Stockholm, Sweden in 2000, but moved to its current location, Bromölla in the south of Sweden, in early 2006.
Our Designers
Marita Flodin is known as an excellent aquarellist.
The following quote describes how she approaches her designs:
"I love to paint
what Mother Earth
has to offer in nature."
Carina Flodin paint mostly in acrylic on linen canvas. Her most famous motifs are her different hearts in warm, vibrant and bright colors.
It all started with carpets emblazoned with heart patterns. These have been sold all over Scandinavia since 2003. After this followed designer dishcloths and linen shopping bags, all with her now trademark heart symbols. The latest products are her very successful dining trays for tables or to put on purpose made steel tray stands in different varieties. These have many different motifs, but it wouldn't be a Flodin Design product without a heart!
Her philosophy when painting and designing can be summarized in the following quote:
"My wish is that you will be happy
and get a warm feeling inside
when you look at my paintings."
Tutoring / Teaching
Flodin Design also give inspiring classes and lectures. Among the themes are:
Prime colors and blending colors
Basic portrait painting
Techniques for sketching and painting with acrylics and aquarelle
Artworks
We have different types of artworks represented at the following public venues and locations:
Bromölla Spinning, Sweden - A mural painting
Bromölla City Hall, Sweden
Crowe Howarth, Sölvesborg, Sweden
MAXI ICA Supermarket, Bromölla, Sweden
Restaurant La Romantica, Sölvesborg, Sweden
Solgården, Korsholm, Finland
The Artwork for Charity challenge
Swedish Radio P4 sent live from Bromölla train station, April 27th 2012 from 06.00 until 10.00 and announced the Artwork for Charity project where local artists were challenged to create artwork from everyday objects to raise money for charity through an auction.
A few weeks before this I got a call from the famous radio profile Anders Liljeqvist. He asked me if I was interested to join this crazy art project and create an artwork using icescrapers.
If you said yes – you would have to create something artistic from a collection of icescrapers! And when you were done your piece of art would be up for auction in the beginning of October. All money raised by this auction would be sent directly to charity.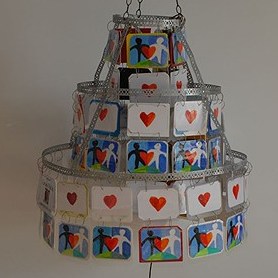 Obviously I said YES! It was a hard process trying to imagine something
created from icescrapers to be able to raise money for charity, but I created two pieces of art that went on auction!
ICA MAXI Supermarket in Bromölla gave the highest bid which was 4000 SEK and won the auction! They are now showing the art in the supermarket entrance. The two pieces of art that they won is a led lamp and a sculpture of a rockband - "The Love Scrapers". A band called TC8 made a special song for the band in a music project. This song is "Open your heart"...
Foto: Johan Pettersson/Sveriges Radio. You can watch this clip on YouTube of the song by TC8!
Contact information
Flodin Design AB
Folketshusgatan 8B, 295 31 Bromölla, SWEDEN
Telephone no: +46 (0)709 - 795874
Email address: This email address is being protected from spambots. You need JavaScript enabled to view it.

Company registration no: SE5567946123